Ruvati Sinks: A Comprehensive Guide to Premium Kitchen and Bathroom Fixtures
Posted by The Sink Boutique on
Welcome to our comprehensive guide to
Ruvati sinks
, where we delve into the world of premium kitchen and bathroom fixtures. Ruvati is a distinguished brand renowned for its exceptional craftsmanship, innovative design, and commitment to quality. Whether you're looking to upgrade your kitchen or revamp your bathroom, Ruvati sinks offer a remarkable combination of functionality and aesthetic appeal.
With a diverse range of sink types and materials, Ruvati provides solutions to suit every style and preference. From sleek stainless steel undermount sinks to timeless fireclay farmhouse sinks, Ruvati caters to a wide array of design aesthetics. Their attention to detail and dedication to creating sinks that enhance the overall experience sets them apart in the market.
Ruvati sinks are not only visually appealing but also highly functional. Many of their models come equipped with innovative features such as noise-reducing technology, optimized drainage systems, and workstation accessories. These features elevate the usability and efficiency of Ruvati sinks, making them a valuable addition to any kitchen or bathroom space.
INDUSTRY RECOGNITION: Ruvati's sinks have garnered recognition from industry experts and organizations. These esteemed accolades validate Ruvati's commitment to producing sinks of the highest quality and performance. Awards from reputable institutions not only reflect the brand's expertise but also provide customers with confidence in their choice of a Ruvati sink.
30 Most Innovative Kitchen & Bath Products of 2022 by BETTER HOMES AND GARDENS

KB Culture Awards 2019 by CTC&G - CONNECTICUT COTTAGES AND GARDENS

Best of Year Awards 2021 – Honoree - INTERIOR DESIGN

DJ Carey's Pick – KBIS 2022 - KBCULTURE
In this guide, we will explore the different types of Ruvati sinks available, the materials they are crafted from, their unique design features, installation and maintenance considerations, as well as customer reviews and recommendations. We will also provide insights into how Ruvati compares to other brands in terms of quality and sustainability.
Ruvati Sink Types: Finding the Perfect Fit for Your Space
Ruvati offers a diverse selection of sink types, each designed to cater to specific needs and preferences. Whether you're looking for a sleek undermount sink, a charming farmhouse/apron-front sink, a versatile top-mount sink, or a stylish bar or bathroom sink, Ruvati has the perfect fit for your space. Let's explore the range of Ruvati sink types and discover the ideal option for your kitchen or bathroom.
As you explore the various sink types offered by Ruvati, consider the specific requirements and design preferences of your kitchen or bathroom. Ruvati's attention to detail, quality craftsmanship, and extensive range of sink types ensure that you will find the perfect fit for your space.
Ruvati's commitment to excellence extends to the selection of high-quality materials for their sinks. Each material offers unique characteristics that enhance both the functionality and elegance of Ruvati sinks.
Stainless Steel:

Ruvati stainless steel sinks are a hallmark of enduring quality and contemporary design. Crafted from premium 16 or 18-gauge stainless steel, these sinks boast remarkable strength and resistance to dents and scratches, ensuring longevity and ease of maintenance. The non-porous surface prevents the buildup of stains and odors, making them an ideal choice for busy kitchens. Ruvati's stainless steel sinks also feature innovative sound-dampening technology, reducing noise and creating a quieter kitchen environment.
Fireclay:

Ruvati fireclay sinks exude timeless charm and elegance. These sinks are handcrafted from a combination of natural clays and glaze, then fired at high temperatures to create a dense and durable surface. The result is a stunning sink with a smooth and glossy finish that resists chipping, scratches, and fading. Ruvati's fireclay sinks add a touch of rustic allure to any kitchen, complementing both traditional and contemporary styles.
Granite Composite

:

Ruvati granite composite sinks combine the durability of granite with the versatility of composite materials. Made from a blend of crushed stone and acrylic resins, these sinks offer exceptional strength and resistance to heat, stains, and impact. The non-porous surface ensures easy cleaning and prevents the growth of bacteria, making Ruvati granite composite sinks a practical choice for busy households.



Porcelain: Ruvati porcelain sinks bring classic elegance to your bathroom with their smooth and glossy finish. Crafted from durable porcelain, these sinks resist stains, scratches, and fading, maintaining their pristine appearance for years to come. Ruvati's porcelain sinks offer a timeless and sophisticated option for enhancing the beauty of your bathroom space.
Whether you prefer the modern elegance of stainless steel, the timeless allure of fireclay, the resilience of granite composite, or the classic elegance of porcelain, Ruvati offers a material choice that perfectly complements your space.
Innovative Features that Redefine Ruvati Sinks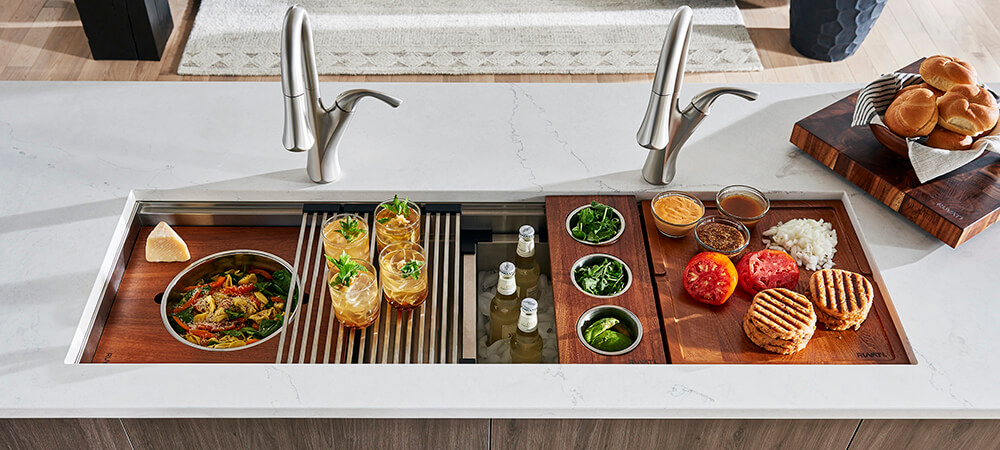 Ruvati sinks go beyond traditional design to incorporate innovative features that transform your kitchen and bathroom into efficient and stylish spaces. From cutting-edge technology to thoughtful accessories, Ruvati's commitment to enhancing your experience is evident in every sink they create. Let's explore the functional features that set Ruvati sinks apart and elevate the usability and convenience of your daily tasks.
Workstation Accessories: Ruvati Workstation Sinks redefine kitchen functionality by integrating cutting-edge accessories directly into the sink design. These innovative sinks come equipped with built-in cutting boards, colanders, and drying racks, providing a multifunctional workspace right at the heart of your kitchen. Prepare ingredients, wash and dry dishes, and conveniently store utensils within the sink, streamlining your culinary tasks like never before.
Sound-Dampening Technology:

Ruvati's stainless steel sinks are engineered with advanced sound-dampening technology. Special padding and coating on the sink's underside reduce noise and vibrations, creating a quieter kitchen environment. Say goodbye to clanging dishes and running water noise, and enjoy a more peaceful cooking experience with Ruvati's noise-reducing sinks.
Low Divide Sinks

:

Ruvati's low divide sinks offer the versatility of a double-bowl sink with a lower center divider, allowing for easier handling of larger pots and pans. The reduced divide between the sink bowls provides the benefits of two separate compartments while accommodating larger items without hassle. Whether you're washing oversized baking sheets or bulky cookware, Ruvati's low divide sinks make cleanup a breeze.
Glass Rinser

:

Ruvati understands the importance of convenience in your kitchen, especially when entertaining guests. That's why some Ruvati sinks come with a built-in glass rinser, which allows you to rinse your glassware with ease. Effortlessly clean wine glasses, cups, and other drinkware, making your entertaining experience more enjoyable and efficient.
With Overflow Protection

:

Ruvati's bathroom sinks are designed with overflow protection, ensuring that excess water is redirected away from the sink's surface. This feature prevents water from spilling over the edge of the sink, providing peace of mind and safeguarding your bathroom from potential water damage.
Outdoor and RV/Tiny Home Sinks

:

For outdoor kitchens or compact living spaces like RVs and tiny homes, Ruvati offers specialized sinks designed to withstand the elements and maximize utility. These outdoor and RV sinks are crafted with durable materials and practical features, making them the perfect addition to your outdoor oasis or cozy mobile dwelling.
Ruvati's commitment to innovation ensures that each sink they create is not only aesthetically pleasing but also highly functional. Whether you seek a workstation sink to streamline your kitchen tasks, a noise-reducing stainless steel sink for a quieter cooking experience, or a low divide sink for added versatility, Ruvati has thoughtfully designed sinks to cater to your needs.
Design Inspiration - Shop The Look!
Here are some inspiring styles that will elevate your home with the mark of excellence that Ruvati brings. Reimagine your space and explore how to curate the perfect look with Ruvati at the forefront of your design journey!
Installation and Maintenance Tips for Long-Lasting Ruvati Sinks
Proper installation and regular maintenance are crucial to ensure the longevity and optimal performance of your Ruvati sink. Whether you're installing a new sink or replacing an existing one, following best practices will guarantee a seamless fit and a beautiful addition to your kitchen or bathroom. Let's delve into the essential tips for installation and maintenance, ensuring that your Ruvati sink remains a timeless centerpiece for years to come.
Installation Considerations:


Hire a Professional: While some DIY enthusiasts may tackle sink installation themselves, it is often best to enlist the help of a professional plumber. Experienced plumbers can ensure precise fitting and proper plumbing connections, reducing the risk of leaks or damages.
Verify Sink Compatibility: Before purchasing a Ruvati sink, ensure it is compatible with your existing countertop and cabinet configuration. Measure the sink dimensions and cutout requirements to avoid any installation issues.
Seal Properly: For undermount sinks, ensure the sink is properly sealed to the underside of the countertop using the recommended sealant. This prevents water from seeping into the cabinet below and maintains the sink's stability.
Follow Manufacturer Guidelines: Always refer to the manufacturer's installation instructions and follow their recommendations for a seamless installation. Ruvati provides detailed guidelines to ensure a successful sink installation.

Search the model # on our website to find the product installation guide.
Maintenance Tips for Different Materials:


Stainless Steel Sinks: Clean stainless steel sinks regularly with mild soap and warm water, followed by a soft cloth or sponge. Avoid abrasive materials or harsh chemicals, as they may scratch the sink's surface.
Fireclay Sinks: To preserve the glossy finish of fireclay sinks, use a non-abrasive cleanser or a mixture of baking soda and water. Be careful when using heavy pots or pans in fireclay sinks to prevent chipping.
Granite Composite Sinks: Wipe granite composite sinks with a mixture of mild dish soap and warm water, then rinse thoroughly. Be careful when exposing the sink to extreme heat or dropping heavy objects to prevent damage. Always let the hot dishes cool down a bit before leaving them in the sink.
Porcelain Sinks: For porcelain sinks, use a gentle non-abrasive cleaner to preserve the smooth surface. Avoid using harsh chemicals or abrasive scrubbers that may scratch the sink.

Search the model # on our website to find the product care and maintenance guide.

Regular Maintenance Practices:


Promptly Clean Spills: Clean up any spills or stains on the sink's surface immediately to prevent permanent discoloration or damage.
Avoid Heavy Impact: Refrain from dropping heavy objects or sharp utensils into the sink to avoid chipping or scratching.
Use Sink Grids and Mats: Consider using sink grids or mats to protect the sink's surface from scratches and dents caused by heavy pots and pans.
Regular Check for Leaks: Periodically check for any signs of leaks around the sink area and address them promptly to prevent water damage to the cabinetry below.
Follow Manufacturer Recommendations: Adhere to Ruvati's specific maintenance guidelines to ensure your sink remains in pristine condition.
By following these installation and maintenance tips, you can enjoy the enduring beauty and reliable performance of your Ruvati sink for many years to come. Whether you're preparing meals in your kitchen or washing up in your bathroom, a well-maintained Ruvati sink will continue to elevate your experience in your home
Customer Reviews: Testimonials from Satisfied Customers
The true measure of a product's excellence lies in the experiences and opinions of those who have welcomed it into their homes. Ruvati has garnered an impressive following of satisfied customers who have embraced their sinks for their outstanding quality, innovative features, and timeless beauty. Below, we will highlight some testimonials from homeowners and professionals who have had the pleasure of incorporating Ruvati sinks into their living spaces.
These testimonials are just a few examples of the many positive experiences shared by Ruvati sink owners. Their genuine appreciation for the quality, design, and functionality of Ruvati sinks is a testament to the brand's commitment to customer satisfaction and product excellence.
When it comes to selecting the perfect kitchen and bathroom sinks for your home, two well-respected brands that come to mind are
Kraus and Ruvati.
With their commitment to quality, innovative designs, and functionality, both companies have earned a reputation for producing top-notch fixtures that elevate living spaces. If you find yourself torn between Kraus and Ruvati sinks, this comparison guide may help you make an informed decision. By the end of this comparison, you'll see that both Kraus and Ruvati have solidified their positions as leading brands in the kitchen and bathroom fixture market, and their sinks have garnered praise from homeowners and professionals alike.
| | | |
| --- | --- | --- |
| | Extensive collection of sinks and faucets | Comprehensive selection of sinks and accessories |
| | Stainless Steel, Fireclay, Granite Composite, and more | Stainless Steel, Fireclay, Granite Composite, etc. |
| | Offers workstation sinks with integrated accessories | Offers workstation sinks with built-in features |
| | Green Certification for environmentally friendly sinks | Emphasis on sustainability and eco-friendly design |
| | Limited Lifetime Warranty | Limited Lifetime Warranty |
| | Sound-dampening technology, tight-radius corners | Integrated cutting boards, colanders, and racks |
| | | |
| | Positive customer reviews | Positive customer reviews |
| | Durable and resistant to stains and scratches | Durable and resistant to stains and scratches |
| | Modern, contemporary, farmhouse and traditional styles | Modern, contemporary, and farmhouse designs |
Ultimately, the choice between Kraus and
Ruvati
comes down to your personal preferences and specific requirements. Consider factors such as design aesthetics, material preferences, and the desired features that align with your lifestyle. Whichever brand you choose, rest assured that both Kraus and Ruvati are renowned for their quality craftsmanship and commitment to customer satisfaction, making them reliable choices for transforming your kitchen and bathroom spaces.
Frequently Asked Questions (FAQs):
We attempt to address common queries and concerns related to Ruvati kitchen sinks, such as installation, maintenance, and warranty! At The Sink Boutique, we are committed to providing you with exceptional
customer service and support
. If you have any further questions or concerns about Ruvati sinks, installation, maintenance, or warranty coverage, please don't hesitate to reach out to our knowledgeable team. We're here to help you make an informed decision and find the perfect Ruvati sink that perfectly complements your kitchen and bathroom spaces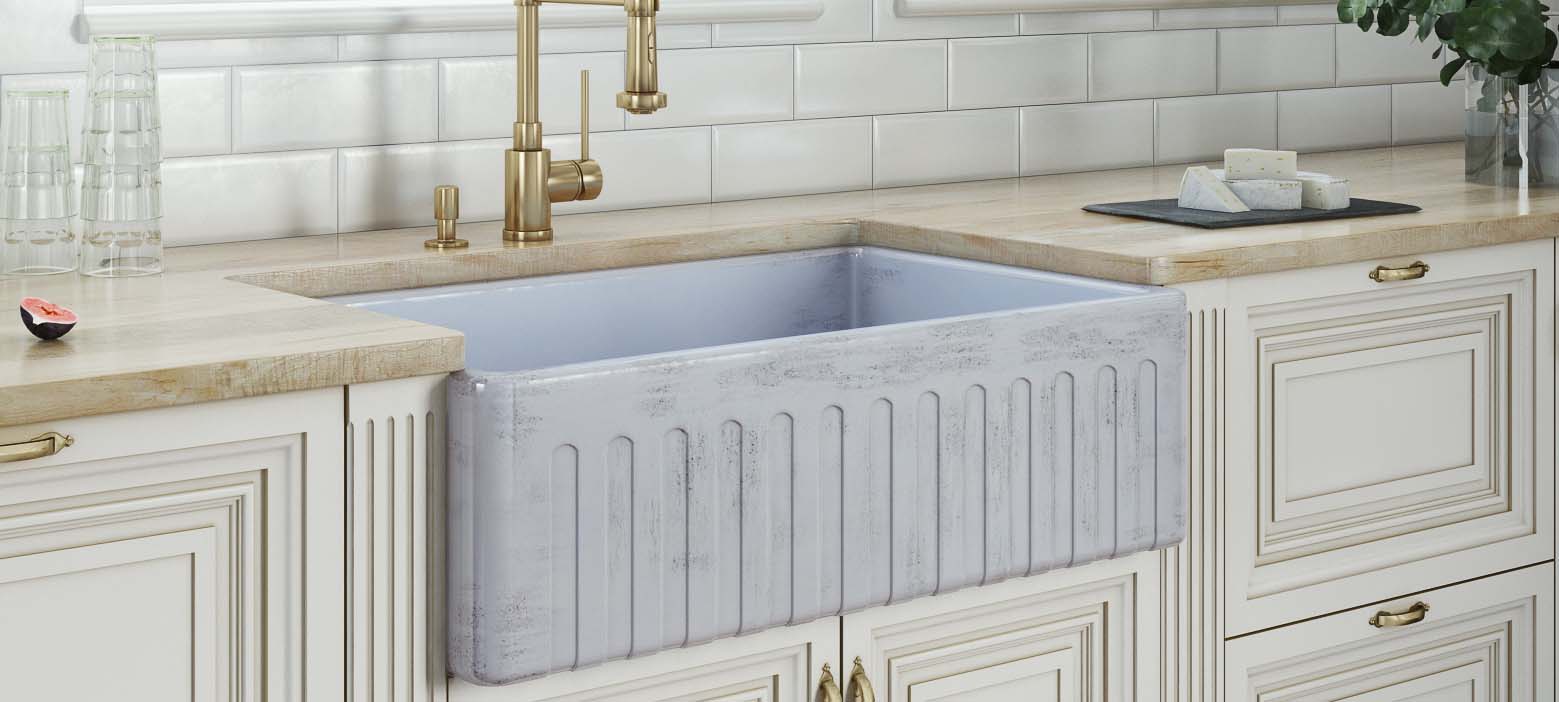 What are Ruvati sinks made of?

Ruvati sinks are made of various materials, including premium stainless steel, fireclay, granite composite, and porcelain. They use T-304 stainless steel, an alloy with 18% chromium and 10% nickel, for maximum service life.
Which kitchen sink is the best to buy?

The best kitchen sink to buy depends on your specific needs and preferences. Ruvati offers a comprehensive collection of sinks, including workstation sinks, stainless steel sinks, fireclay sinks, and more. Consider factors like size, style, material, and innovative features to find the perfect sink for your kitchen.
Which sinks are most durable?

Ruvati sinks, particularly those made from stainless steel and granite composite, are known for their exceptional durability. These materials are resistant to scratches, stains, and corrosion, making them a popular choice for long-lasting performance.
Do Ruvati sinks scratch easily?

Ruvati stainless steel sinks are designed to resist scratches and maintain their appearance even with regular use. However, it is essential to follow proper maintenance and avoid using abrasive materials to ensure the sink's longevity and appearance.
How can I ensure my Ruvati sink remains in warranty compliance?

To maintain warranty compliance, ensure your sink is installed according to the manufacturer's instructions. Regularly clean and care for your sink following Ruvati's maintenance guidelines. In case of any defects or issues, contact Ruvati or The Sink Boutique promptly to address your concerns and seek assistance.
How to clean Ruvati stainless steel sink?

Cleaning a Ruvati stainless steel sink involves using mild soap and warm water with a soft cloth or sponge. Avoid using abrasive materials or harsh chemicals that may damage the sink's surface.
Are Ruvati sinks made in the USA?

Ruvati is owned and operated by the company Ruvati USA, Inc., which is based in Austin, Texas. Ruvati is an American brand known for its innovative and high-quality kitchen and bathroom fixtures. Ruvati sinks are designed in the USA, but the manufacturing of their sinks may involve sourcing materials from various regions of the world
Yes, Ruvati sinks are highly regarded for their quality, innovative features, and diverse sink options. Customers appreciate their durability, style, and functionality, making Ruvati sinks a popular choice among homeowners and professionals.
Are Ruvati sinks suitable for outdoor use?

Ruvati offers sinks specifically designed for outdoor use. These sinks are crafted with durable materials and innovative features to withstand outdoor elements and optimize usability in outdoor kitchens or entertainment areas.
Are Ruvati sinks noise-proof?

Ruvati stainless steel sinks feature advanced sound-dampening technology with special padding and coating on the underside. This technology significantly reduces noise and vibrations, creating a quieter kitchen environment. While not completely noise-proof, Ruvati sinks minimize noise levels during use.
Are Ruvati workstation sinks suitable for small kitchens?

Absolutely! Ruvati workstation sinks are designed to maximize space efficiency. Their integrated accessories eliminate the need for extra countertop tools, making them a perfect fit for both small and large kitchens. With the added convenience of built-in cutting boards and colanders, Ruvati workstation sinks optimize functionality without compromising on style.
Where to Find Ruvati Sinks: The Sink Boutique, Your Destination for Premium Fixtures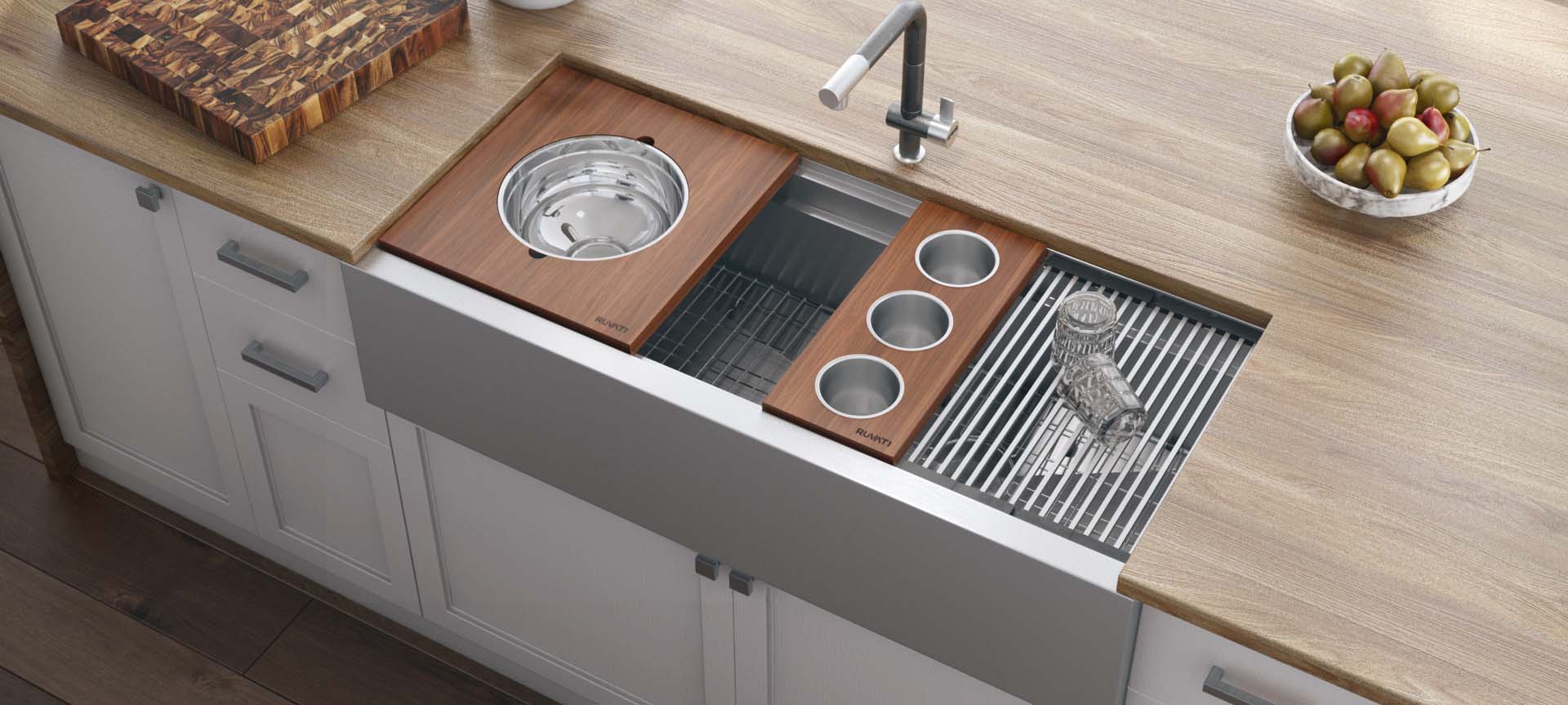 If you're eager to bring the sophistication and functionality of Ruvati sinks into your home, look no further than The Sink Boutique. As an authorized retailer of Ruvati sinks, The Sink Boutique offers an extensive selection of Ruvati sink models to cater to every style and need. Here's why The Sink Boutique is your go-to destination for premium kitchen and bathroom fixtures:
Extensive Ruvati Collection: At The Sink Boutique, you'll find an extensive collection of Ruvati sinks, showcasing a wide array of sink types, materials, and innovative features. Whether you're seeking a modern stainless steel undermount sink or a charming fireclay farmhouse sink, The Sink Boutique has the perfect Ruvati sink to complement your space.



Expert Guidance and Customer Service: The Sink Boutique's team of experts is dedicated to assisting you in finding the ideal Ruvati sink for your specific requirements. From answering your questions to providing personalized recommendations, their customer service ensures a seamless and satisfying shopping experience.



Quality Assurance: With The Sink Boutique's commitment to offering only the finest products, you can trust that every Ruvati sink is of exceptional quality, craftsmanship, and durability. Each sink is sourced directly from Ruvati, guaranteeing authenticity and meeting the brand's rigorous standards.



Easy and Secure Online Shopping: The Sink Boutique's user-friendly website allows you to explore the Ruvati sink collection from the comfort of your home. Their secure and convenient online shopping platform ensures a hassle-free purchasing process, with various payment options available.



Timely Delivery: Once you've found your perfect Ruvati sink, The Sink Boutique ensures prompt processing of your order with frequent communication all the way till the product reaches your doorstep! Rest assured that your sink will arrive in pristine condition, ready to enhance your kitchen or bathroom space.

Embrace the Excellence of Ruvati Sinks Today!
With The Sink Boutique as your trusted retailer, discovering and acquiring your dream Ruvati sink has never been easier. Our dedication to providing premium products and outstanding customer service ensures that your journey to finding the perfect sink is a delightful and satisfying one. Upgrade your kitchen or bathroom with a Ruvati sink from The Sink Boutique and experience the enduring elegance, exceptional functionality, and eco-friendly initiatives that have made Ruvati a renowned name in the world of kitchen and bathroom fixtures. Welcome the mark of excellence into your home and make a lasting statement with a Ruvati sink that epitomizes quality and style.
Shop Popular Ruvati Sink Models
---
Share this post
---
---
---